STORE
Shipping takes 1-2 weeks within Canada, 2-4 weeks for international addresses. If you would like to arrange rush delivery or a tracking number, contact us before placing your order. All items are for private home use; for public exhibition or institutional licenses, please contact us directly.
THE END OF TIME (2012) - BLU-RAY
Produced in house by Grimthorpe Film Inc. with plastic c-shell case. Region free. Comes with 5.1 Surround and Stereo mixes, subtitles in French, German, Spanish, and English SDH. Special features include trailer and director's commentary.
GAMBLING, GODS AND LSD (2002) - BLU-RAY
Produced in house by Grimthorpe Film Inc. with plastic c-shell case. Region free. Subtitles in French, German, and Spanish.
NOTE: This disc does not currently have packaging, but will soon. Contact us for more info.
PICTURE OF LIGHT (1994) - BLU-RAY
Grimthorpe Film is proud to release a new digital restoration of Picture Of Light with stunning picture and sound as part of the TIFF Canada 150 Project.
5.1 Surround and Stereo mixes, English closed captioning, subtitles in French, German, and Spanish. Special features include director's commentary and bonus essay.
COMING SOON
THE END OF TIME (2012) - DVD
An enthralling, mind-bending tour de force that challenges our conception of time – and perhaps the very fabric of our existence. With stunning cinematography and a knack for capturing astonishing moments, The End Of Time travels the planet – from the CERN particle accelerator to the lava flows of Hawaii; from a disintegrating Detroit where Henry Ford built his first factory, to the tree where Buddha was enlightened. Both mind-expanding and eerily familiar, Mettler's provocative film explores the links between renewal and destruction, between primordial mysticism and the furthest reaches of modern science, offering the viewer a transcendent cinematic experience.
DVD produced by First Run Features. Special features include director's commentary and photo gallery. Subtitles in French. Region-free disc with eco-packaging.
PETROPOLIS: AERIAL PERSPECTIVES ON THE ALBERTA TAR SANDS (2009) - DVD
Shot from a helicopter, Petropolis: Aerial Perspectives on the Alberta Tar Sands offers an unparalleled view of one of the world's largest industrial, capital and energy projects. Canada's tar sands are an oil reserve the size of England. Extracting the crude oil called bitumen from underneath unspoiled wilderness requires a massive industrialized effort with far-reaching impacts on the land, air, water, and climate. It's an extraordinary spectacle, whose scope can only be understood from far above. In a hypnotic flight of image and sound, one machine's perspective upon the choreography of others, suggests a dehumanized world where petroleum's power is supreme.
DVD produced by Mongrel Media. Includes optional French subtitles, enhanced for Widescreen 1.78. Region 1, eco-packaging.
GAMBLING, GODS AND LSD (2002) - DVD
A filmmaker's inquiry into transcendence becomes a three-hour trip across countries and cultures, interconnecting people, places and times. From Toronto, the scene of his childhood, Peter Mettler sets out on a journey that includes evangelism at the airport strip, demolition in Las Vegas, tracings in the Nevada desert, chemistry and street life in Switzerland, and the coexistence of technology and divinity in contemporary India. Everywhere along the way, the same themes are found: thrill-seeking, luck, destiny, belief, expanding perception, the craving for security in an uncertain world. Fact joins with fantasy; the search for meaning and the search for ecstasy begin to merge.
DVD produced by Alliance Atlantis. Special features include a bonus video, "Gambling, Gods and Mettler". Subtitles in French and German.

SOLD OUT
PICTURE OF LIGHT (1994) - DVD
A mesmerizing tale about a journey to Canada's arctic in search of one of Earth's greatest natural wonders: the Aurora Borealis. Combining glimpses of the characters who live in this remote environment with the film crew's comic and absurd attempts to deal with the extreme cold, the film reveals the paradoxes involved in trying to capture the Northern Lights on celluloid. Exploring the tension between nature and technology and between science and myth, Picture of Light reflects on our desire to capture the wonders of the world on camera, revealing how our increasingly connected world threatens to render obsolete our individual and authentic experiences.
DVD produced by First Run Features. Special features include photo gallery, director biography, and essay. Region-free, eco-packaging.
THE TOP OF HIS HEAD (1989) - DVD
The Top of His Head blends narrative and experimentation to offer a provocative commentary on contemporary media environments. Gus Victor is a satellite dish salesman whose ordered world is turned upside down by a radical and alluring performance artist. A cryptic note leads him on a quest that draws him out of the tyranny of the material world, opening his perceptions in unexpected ways. The Top of His Head is a genuinely mind-altering experience that raises questions about identity in a mediated world – an avant-garde fairy tale years ahead of its time, whose ultimate subject is nothing less than new ways of seeing.

Special features include excerpts from other Mettler films, articles and a photo gallery. Subtitles in French & German.
PRELUDES: SELECTED WORKS (1982–97) - DVD
Preludes gathers three of Peter Mettler's most poetic films, providing a fascinating example of the wide variation of genres in which he works, as well as an exploration of the roots of his inspiration as an artist. In his first feature, Scissere (1982), Mettler depicts the inner workings of a troubled mind. In the travelogues Eastern Avenue (1985) and Balifilm (1997), Mettler turns his camera onto the world to document various landscapes and people. While thematically diverse, these films share a common approach of intuitively gathered material connected through an experimental and lyrical sensibility.

Special features include excerpts from Mettler's other films, articles, and a photo gallery. Subtitles in French & German. Region-free.
MAKING THE INVISIBLE VISIBLE - BOOK
"... a balance between intellect and intuition, order and chaos, action and perception."
A collection of essays, excerpts from Mettler's journals, photographs and statements by filmmakers, critics, musicians and artists exploring the cinema of Peter Mettler. Features contributions from Claudia Acklin, Atom Egoyan, Fred Frith, Philip Hoffman, Nicolas Humbert/Werner Penzel, Thomas Imbach, Fred Kelemen, Réal LaRochelle, Peter Liechti, Christie MacFayden, Bruce McDonald, Catherine Martin, Tom McSorley, Jean Perret, Jeremy Podeswa, Veronika Rail, Pipolotti Rist, Patricia Rozema, Martin Schaub, Peter Weber, Peter Wintonick.
Edited by Salome Pitschen and Annette Schönholzer. Published by Reihe Andreas Züst & Verlag Ricco Bilger, Switzerland.
First edition, 1995. 160 pages, black and white. In English and German.
21 cm x 25 cm
ISBN: 3.908010.93.4
OF THIS PLACE AND ELSEWHERE - BOOK
This monograph on the films of Peter Mettler, published on the occasion of a 2006 retrospective at the Toronto International Film Festival, this book offers analysis of all his major films, including chapters devoted to Picture of Light and Gambling, Gods and LSD. It places Mettler in a Canadian context but also deals with his identity as a Swiss artist and his place in an emerging global cinema. The book also includes an extensive selection of Mettler's photography that covers a thirty year span, reproduced in stunning colour plates.
Published by the Toronto International Film Festival. Distributed in Canada by Wilfrid Laurier University Press. Distributed outside Canada by Indiana University Press.
First edition, 2006. 250 pages, with 100 color plates.
19 cm x 23.5 cm
ISBN: 978-0-9689132-5-3
GAMBLING, GODS AND LSD SOUNDTRACK - CD
Featuring original music by Peter Bräker, Fred Frith and DJ Dimitri de Perrot. Also music by Henryk Gorecki, Jim O'Rourke and others.
Limited quantity, no repress.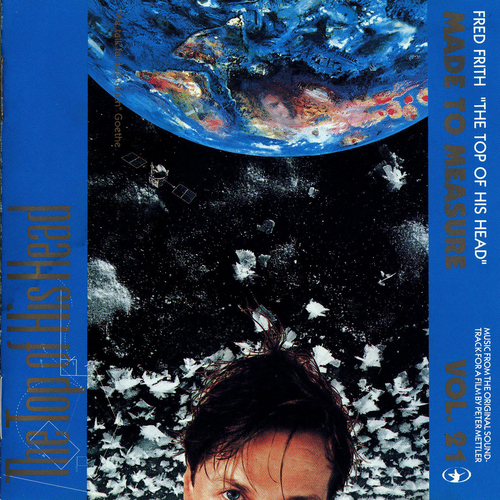 FRED FRITH "THE TOP OF HIS HEAD" OST - CD
Released as Made to Measure, Volume 21. The original soundtrack for the eponymous Canadian film directed by Peter Mettler is the first appearance on Made To Measure from the New York-based guitar wizard/composer Fred Frith, who has worked with Bill Laswell, Robert Wyatt, Brian Eno, Henry Cow, The Residents, and Aksak Maboul. Features one track sung by Canadian folk icon Jane Siberry.
Made in Holland. Limited quantity, no repress.